Dr. Vani Takiar Pediatric Dentist in Ashburn, VA
Welcoming Dr. Vani Takiar in May 2019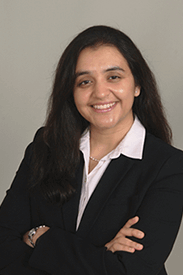 We are excited to welcome Dr. Takiar a pediatric dentist to our office. Hailing from Lutherville, Maryland, Dr. Vani Takiar is excited to be joining Greenway Smiles.
Dr. Takiar completed her undergraduate education at Johns Hopkins University, obtaining a Bachelor's degree in Neuroscience and French. She subsequently completed a Master's degree in Bioethics from the Medical College of Wisconsin prior to attending the University of Pennsylvania School of Dental Medicine for dental school. Dr. Takiar completed her advanced pediatric dental training at the Boston University Henry M. Goldman School of Dental Medicine and worked extensively at Boston Medical Center, East Boston Neighborhood Health Center and Franciscan Children's Hospital.
Dr. Takiar is board certified with the American Board of Pediatric Dentistry and is a proud member of the American Dental Association, the American Academy of Pediatric Dentistry and the Academy of Laser Dentistry from which she has obtained Standard Proficiency Certification Status.
When she's not working, Dr. Takiar enjoys performing sitar concerts, working out and traveling.